Home :: mobile home for sale

mobile home for sale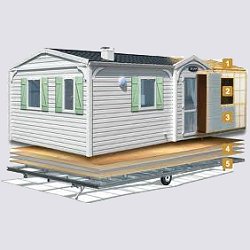 When looking at a mobile home for sale, keep in mind there are lots to choose from. The first thing to decide is if you are going to buy a new mobile (or manufactured) home or a previously owned mobile home? Financing options will be based on your choice of home and your credit history. It would be best to check out financing possibilities before you start to look, so you know what your limitations may be. It would be disappointing to find your dream home, only to be turned down after you decided that it was the one for you.
If you are buying a used mobile home you will probably find many great deals. It's a buyers market right now and that will give you room to negotiate. But again, be sure of what you can afford. Keep in mind that if the mobile home is in a land leased park, you will be paying lot rent, a payment on the home, and utilities. There are often yearly pass through charges from the park, as well, so make sure you ask lots of questions in advance. Do you have a back up plan for any repairs that may be needed? Buying a mobile home isn't like renting an apartment. You are obligated to keep it in good repair, especially if it is located in a mobile home park or community. There are often regulations about keeping the outside clean and about the number of cars in the driveway, etc. Lawn care may or may not be included in the rent. If you decide to move, can you sell it yourself and can you put a for sale sign in the window? Can you rent the home to someone else when you aren't there? These are all good questions to ask.
Once you have done some research you will need to decide where you want to live. Will it be in a family park or an adult park? What state and city are of interest? Once you decide the answer to those questions, you will have lots of options to examine. If you are looking for a mobile home for sale in a family park, the closest schools will be important. You will want to know if the area is safe, and if the mobile home park has recreational facilities for children.
Or, maybe you are looking for a mobile home to put on your own lot. If that's the case, you will first want to verify the zoning restrictions. There are lots of other issues when you are buying a mobile home to put on your own lot. You will probably need a foundation, possibly a well and septic tank, a driveway and utilities. Those costs can add up fast but may still be cheaper than buying an existing home. Just be sure that you have a list of questions and answers before you start looking at that mobile home for sale.
To Find a Mobile Home in a
Senior Community Click Here