Home :: manufactured home

manufactured home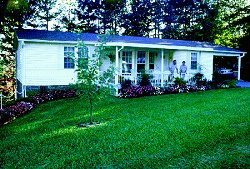 If you're thinking about buying a Manufactured Home, you may be surprised at the options available. Yesterday's mobile home is today's Manufactured Home. Since the 1976 HUD Code enactment policy, a prefabricated housing unit has been called a manufactured home. Before 1976 they were called mobile homes because they were, indeed, more mobile. They could be somewhat easily moved with the assistance of a trucking company. Today's manufactured home is designed to remain more permanently on the lot although it is still technically possible to move some of them. They often have add ons like porches, garages, and room additions, which tend to make them more permanent.
Prior to 1976 mobile home loans were difficult to obtain because mobile homes were treated more like cars. They depreciated more than stick built homes and loan terms were shorter while the interest rates were generally higher. That has changed to some degree for manufactured homes.
A manufactured home is a good option for single people because it offers the opportunity for an investment, includes community maintenance, (such as lawn mowing) and the manufactured home communities usually offer amenities such as a pool, exercise room, etc. Young families may choose a manufactured home, as a first home, because it's more affordable than a stick built home, and unlike an apartment, the owner can make decorating changes without asking for permission. Because the home doesn't share walls with other tenants, a manufactured home is often quieter and more private, yet may be in a community with other families. The communities are usually near schools and may offer organized activities, basketball and tennis courts, playgrounds and pools. Retired people and seniors may find a manufactured home desirable because manufactured homes are more affordable, may be in an adult or age qualified manufactured home community, and offer potential as a second home.
A manufactured home is a great housing option for anyone!
To Find a Mobile Home in a
Senior Community Click Here