Home :: homes in mobile home parks

homes in mobile home parks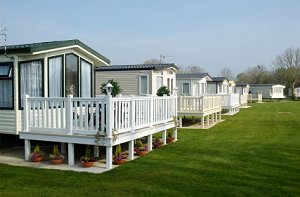 Buying a mobile home is only half of the process of deciding where to live. The next question is whether to put the mobile home on a lot that you own or to put it in a mobile home park. In most cases the mobile home will either be in a park when you buy it or on it's own lot already because mobile homes are technically defined as structures that were manufactured before 1974.
If you decide to buy a mobile home in a mobile home park, the type of park you choose is almost as important as the home itself. If you have a family, or you're a young couple or a younger single person, a mobile home is a great first home, but you must choose one that's in a family (or all ages) mobile home park. If you are an adult, you have the option of an adult park or an all ages park. Adult mobile home parks usually have age restrictions that require one family member to be at least 55 years of age, and they don't allow children under 18 to live in the home. Some senior mobile home parks actually allow adults as young as 40 to live there, and others require all mobile home residents to be 55+. These are important questions to ask before falling in love with a home you may not qualify to occupy in a particular park.
There are two types of mobile home parks. One is a share owned or co-op park and the other is a land lease park. In a share owned mobile home park, all residents are considered owners and they pay a monthly maintenance fee for the park amenities. They have their own board of directors and decisions are made much in the same way a condo association works. Each resident pays property taxes and they are tax deductible, to the extent of the law. Land leased parks are owned by an individual or corporation and they maintain the public areas, roads, amenities, etc. The park must usually approve the residents and the residents pay a monthly rental fee for the space and the park amenities. That fee is called lot rent.
To Find a Mobile Home in a
Senior Community Click Here